Some Thoughts On Postnatal Depression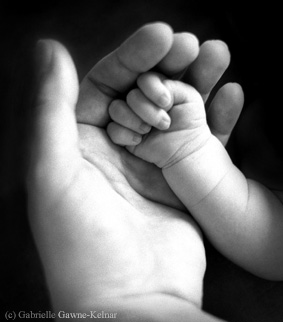 By Gabrielle Gawne-Kelnar, first published on The CAPA Quarterly blog, 2010.
Simply inhabiting a female body brings certain things with it, including (for many women) the potential for pregnancy and childbirth; that sacred, yet very earthly human function.
Following the ideals of feminist therapy, which encourages transparency and the telling of women's own diverse and personal stories as a preferred bank of knowledge over the more sterile, potentially patriarchal, 'expert' views (Corey 2005, p.351), I want to reveal some of my own cards here.
At the time of writing, I am not (yet?) a mother. I have been pregnant and have felt the complex pain of miscarriage. Before becoming a therapist, I was a photographer who specialised in photographing women during their pregnancy and after the birth of their children. In so doing, I had the opportunity to hear many stories of how women were experiencing this part of their lives; and how relieved those women were, who had faced postnatal depression and come through it.
What is postnatal depression (PND)?
Now, back to the other 'expert' opinions, to see how they might also shape our therapeutic practice.
Depression following childbirth is thought to appear in three main forms:
1. The 'baby blues', which around 80% of women experience, and generally lasts only hours to several days (beyondblue 2006; World Health Organisation Collaborating Centre for Mental Health and Substance Abuse (WHO) 2000, p.189).
2. Postnatal depression, which affects 'almost 16%' or around one in seven new mothers in Australia, (beyondblue 2009, p.1). PND bears all the hallmarks of a 'major depressive episode', except that it begins within three months and up to six months after childbirth (WHO 2000, p.189). Maternal responses during PND can include '…severe anxiety and even Panic Attacks…disinterest, fearfulness of being alone with the infant, or overintrusiveness that inhibits adequate infant rest (American Psychiatric Association 2000, p.423). PND can last for over a year.
3. Postnatal or puerperal psychosis, which affects around one in 500 new mothers (beyondblue 2006). This involves having difficulty thinking clearly and/or experiencing hallucinations/paranoia/delusions (ibid), even up to the point of 'command hallucinations to kill the infant or delusions that the infant is possessed' (American Psychiatric Association, 2000, p.422). It may be influenced by the 'rapidly changing hormones following childbirth' (WHO 2009, p.194). It is considered a medical emergency, for which immediate medical attention should be sought.
What might cause PND?

The exact cause of PND is hard to pinpoint. Some likely predictors include a constellation of factors like:
relationship challenges
little social support
major life changes (such as moving house or changing work patterns)
recent bereavement
previous depressive episodes
having a diagnosis of bipolar disorder
prior or present abuse
problems with the baby's health
'having unrealistic expectations of motherhood' (beyondblue 2009, p.1)
'previous pregnancy or birth-related crises' (WHO 2000, p.190)
so-called 'obstetric complications' (ibid).
Again, drawing on women's own stories and experiences, it's worth noting that the more interventionist forms of 'obstetric complications' have also sometimes been called 'birth rape', which may give an indication of the trauma experienced, and potentially some understanding as to why these experiences may sometimes be linked to depression.
How to treat PND?
If PND is left untreated, '… the impact on the mother and her children can be profound. Children of depressed mothers have a higher risk of cognitive and behavioural difficulties, as well as impairments in later mental health. When left untreated, PND can impact on family relationships and some studies have also indicated that the partners of women with PND may also be at greater risk of depression' (beyondblue 2010).
Clearly, if our clients are at risk of PND, we should encourage them to connect with their support networks and/or consult with their medical practitioner/s.
Beyond that, the WHO also recommends:
exploring the contributing factors and the common nature of this experience with the woman
reassuring her that, '"You are not alone"' (2000, p.192)
giving her 'permission to talk openly' about her feelings and experiences, as confronting or ambivalent as they may be (ibid)
organising practical assistance, if required
referring her to appropriate support services
educating her partner or family, if appropriate
encouraging support from her partner/family
providing relationship counselling, if appropriate
providing individual counselling/psychotherapy (particularly CBT or interpersonal therapy, to encourage 'realistic thoughts' and 'activity planning' (ibid, p.193))
and, importantly, encouraging the woman 'to make decisions that are based on her own judgement, rather than giving advice' (ibid).
Suggestions regarding PND prevention and early intervention include prenatal education and encouraging the woman to explore stress management techniques, such as conscious relaxation (WHO, 2000, p.194).
Interestingly, an old-fashioned Ladies' Handbook from the 1940s which I happen to have, pre-empts many of these ideas, advising that treatment in those days included '… rest, sleep, induced by drugs if necessary,… protection from self-injury, fresh air, sunshine, suitable exercise, a generous diet, correction of constipation and other physical ailments. If she improves, appropriate and pleasant occupations should be devised to engage her thoughts as well as her hands' (Richards, LRCP & Edin 1946, p.182).
And the women I've spoken to – as a therapist, a photographer or simply as another woman – usually reported just wanting to be able to talk about the details of what they were going through. To be heard and understood and supported.
So, reflecting on all of these sources, it seems that some of the most valuable things we can do as therapists, when working with women who are experiencing postnatal depression, is to return to the basics: 'unconditional positive regard', 'accurate empathy', and a congruent, therapeutic relationship. To simply bring a human response to a very human challenge.
.
Related resources
.
References
American Psychiatric Association 2000, Diagnostic and Statistical Manual of Mental Disorders, 4th edn, Text Revision (DSM-IV-TR), American Psychiatric Association, Washington, DC.
beyondblue 2006, Types of Postnatal Depression, viewed 01 July 2010.
beyondblue 2009, Postnatal Depression (Fact Sheet 22), beyondblue, Australia. Available online at: http://www.beyondblue.org.au/index.aspx?link_id=94
beyondblue 2010 What is Postnatal Depression?, viewed 01 July 2010 .
Corey, G 2005 Theory and Practice of Counselling and Psychotherapy, 7th edn, Brooks/Cole, Belmont, CA.
Richards, E, LRCP & Edin, S 1946, Ladies' Handbook: of home treatment, Signs Publishing Company, Warburton, Victoria.
World Health Organisation Collaborating Centre for Mental Health and Substance Abuse 2000, Management of Mental Disorders: Treatment Protocol Project, 3rd edn, vol. 1, World Health Organisation Collaborating Centre for Mental Health and Substance Abuse, Darlinghurst, Sydney.