How Might We Grieve in a Death-Denying Society?
A version of this article first appeared on The Therapist Within blog, 2010.
.
Death is making its presence felt around me at the moment; in my work, in my family, in my circle of friends. So I'm thinking a lot about grieving, and the challenges of doing it in a society that would rather forget about death altogether.
Not so long ago, we generally did our dying at home, surrounded by the people we loved and the places we knew.
Now, more often than not, in the western world our dying is 'outsourced' in some way. Many of us will die in hospital and then be washed and dressed for our funeral by strangers. Handled 'discretely' behind closed doors.
All of this makes it easy for the whole business of dying, and therefore the business of grieving, to become taboo. Consequently, many people feel uncomfortable about grief ('What should I say to the bereaved?') and, collectively, it seems we'd rather that any grieving was kept quiet and 'respectable'.
So, in light of this,
how might we grieve when it comes time for us to do so?
Especially given that we no longer have the traditions that might once have protectively shrouded us in black clothing for weeks or months, and let others around us know that we were mourning. Instead, we're now expected back at work, and back to 'normal', within days…
There are theories about this stuff.
Some of the earlier theories on (western) grieving involved 'steps', 'stages', 'tasks' and goals to achieve.
For example, you probably know that Elisabeth Kübler-Ross suggested there were five stages of grief through which we might travel:
Denial
Anger
Bargaining
Depression
Acceptance
And James William Worden envisioned a more active process of four tasks of mourning:
To accept the reality of the loss
To work through the pain of grief
To adjust to an environment in which the deceased is missing
To emotionally relocate the deceased and move on with life
One commonality amongst most of the earlier grief theories was the idea that we 'should' ultimately 'accept the death' of the person and just 'get on with life' without them.
'Failure' (and that was often the word that was used) to achieve this was usually seen as problematic – a sign, perhaps, of a thing called 'complicated grief'. A sign of trouble…
But grief theory is evolving and can now embrace less linear, less predictable approaches. It's starting to accept that each of us may have to find our own, often painful, path through the darkness. It's starting to see that the territory of grieving changes with each unique relationship, and so perhaps cannot be completely mapped-out in advance.
And, in the theory that resonates most for me, personally, a different possibility altogether is foreshadowed: the idea of 'continuing bonds' (from Klass, Silverman & Nickelman).
Basically, this continuing bonds theory shelves the ideas of 'letting go' and 'moving on' in the way that many other grief theories define those things.
Instead, continuing bonds let us move toward our future without having to let go of everything from our past. Without having to completely 'let go' of the person who died. Without 'getting over' the person you love, but instead, forging an ongoing relationship with them – even despite their death.
(Notice I didn't write 'the person you loved', in the past tense? For this theory recognises that even though that person's life may be over, your love for them, and your relationship to them, are not).
So what about you?
Do any of these sorts of theories describe how grief actually feels in your life?
Or is it pointless to try to capture something as deeply felt and personal as grief can be?
Have there been  particular things that have helped you through grief or loss? Maybe certain traditions or rituals? Or maybe even social media?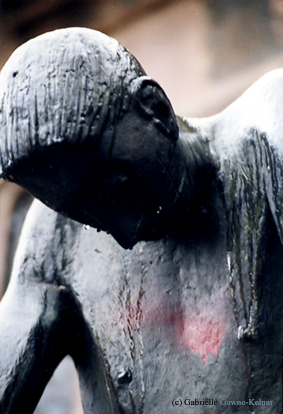 Who knows what death is? …
The jury seems out; and each religion seems to have their own concept of truth on this one.
But perhaps this can be said:
whatever death might be, it seems that love is stronger.
And so maybe our emotional bonds with our loved ones stretch beyond the shores of the living, to whichever lands the deceased might have traveled to.
This idea of 'continuing bonds' enables us to keep those connections alive. To build bridges across the unknown. To feel 'normal' about having the odd 'conversation' with our loved one after their death. To weave their memory through our days and to accept that we're forever changed simply by having known them (and so, in that way at least, they do continue to live alongside us).
I've known many people who feel great relief from these ideas – who no longer feel guilty for 'failing' to live up to the more rigid standards that earlier grief theory set for us.
Interestingly, just as the theories of grief have evolved, so, too, have our ideas about dying itself – and where and how we might do that, too.
Grassroots organisations such as HOME Hospice are springing up, supporting the ability to choose to die at home again, surrounded by love and a sense of home (for those of us who might prefer that).
And other groups like Life Before Death,  The Groundswell Project, LifeCircle and Dying Matters are inviting us to come together and talk more openly about dying, creating a legitimate space for death in our lives again.
(Check-out Life Before Death Campaign's Let's Talk About Death video for a quirky reminder that 'talking about death won't kill you'. Or you can even find DEATH on Facebook).
So, back to the original question:
how might we grieve in a death-denying society?
In any way that makes the most sense to us, it seems.
Any way that can span the unknown distance between life and death…
…Between one heart and another…
.
.
.
Gabrielle Gawne-Kelnar (Grad Dip Counselling & Psychotherapy) is a writer, blogger and Sydney psychotherapist at One Life Counselling & Psychotherapy. Gabrielle also facilitates telephone support groups for people who are living with cancer, for their carers, and for people who have been bereaved through a cancer experience. She was the former editor of a journal on counselling and psychotherapy and she provides regular therapeutic updates on facebook and Twitter @OneLifeTherapy.